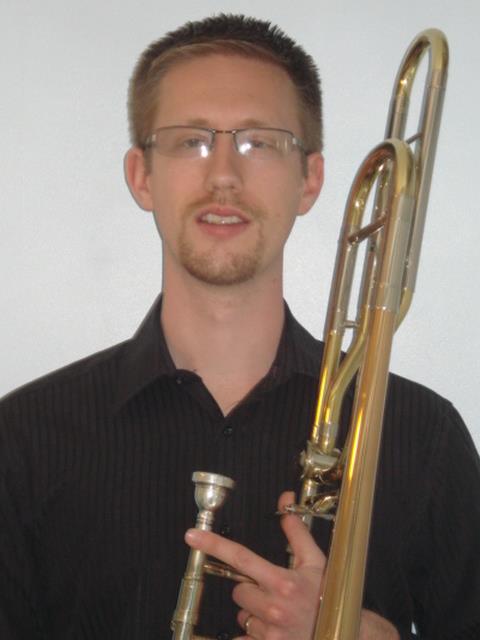 Hello! Thanks for looking at my website. My name is Mr. Pickett and I am a brass teacher in your school. I also teach the recorder at beginner level. You may see me around school doing other things too: sometimes I teach in big groups, small groups, or one-to-one; sometimes I teach music to whole classes; or you might see me teaching in the classroom as a supply teacher if your normal teacher is away. Below is some information about what it's like to learn a brass instrument - I hope this will inspire you to start learning!
What is a brass instrument?
Musical instruments are grouped into 'families':
Brass family: trumpet, cornet, tenor horn, french horn, baritone, euphonium, trombone, tuba
Woodwind family: flute, clarinet, oboe, bassoon, saxophone, recorder
String family: violin, viola, cello, double bass, harp, guitar
Percussion family: anything you hit! This could be drums, cymbals, shakers etc. The piano is also a percussion instrument.
Here are some pictures of brass instruments: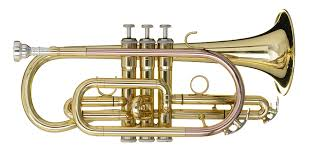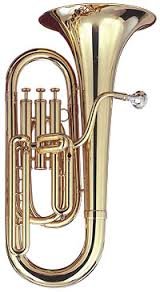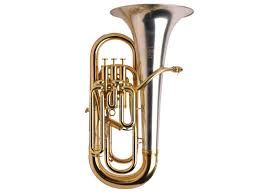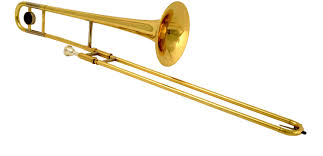 Cornet Trumpet Baritone Euphonium Trombone
The baritone is smaller than the euphonium. The tuba (not pictured) is bigger than a euphonium - probably the same height as an average 10 year old!
Note: The saxophone is not a brass instrument, even though the colour of it makes it look like one. It is a woodwind instrument because it has a reed and keys - it doesn't have a metal mouthpiece and valves like a brass instrument.
How old do I have to be to play a brass instrument?
You must be at least 7 years old so that your muscles in your lips are strong enough. You need to be in the following year group at school for each instrument:
Cornet: Year 3 upwards
Trumpet: Year 3 upwards
Baritone: Year 3 upwards
Euphonium: Year 5 upwards
Trombone: Year 5 upwards
Is it hard to play a brass instrument?
Some people find it easier than others. Some people struggle at first, but if they keep working at it, they get better over time - it's like anything that you do - the more your practise the better you will become. You have to train the muscles in your lips and tummy to become stronger, just like the muscles in your legs when your run.
Will I learn in a group or own my own?
This depends on a number of things. You might start off in a whole class, learning with your class-mates for a year. If you want to continue you might then learn in a smaller group. After this you might learn in a pair, with one other pupil. When you start to become a good player, it is best to have lessons on your own so that you can make good progress, but you don't have to. The best thing to do is speak to your parents about what they think is good for you.
How long will my lesson be?
When you first start you might have a 20 or 30 minute lesson. When you become more advanced this could increase, depending on your ability.
Do I have to practise?
Yes! The more you practise the better you will become. If you do not practise at home you will not make much progress and may get left behind the others in your group. If you are learning as a whole class you will not be able to take your instruments home, but you can ask your class teacher if you can practise at break time or lunch time, or maybe your teacher would let the whole class practise together, just like in lessons. I recommend the following practise times:
Beginner: 15 minutes on at least 4 days per week
Grade 1-2: 20 minutes on at least 4 days per week
Grade 3-4: 25 minutes on at least 5 days per week
Grade 5-6: 30 minutes on at least 5 days per week
Grade 7-8: 45 minutes on at least 5 days per week
Grade 8+: At least 1 hour every day
If you miss a day, or can't manage to practise because you are away or something happened at home, please don't worry! These are guidelines, but remember that you won't improve very quickly unless you practise at home!
Will I have to take exams?
You don't have to - I would never force anyone to do this, although it is sometimes good to know what level you have reached. We can talk about this, with your parents, when the time comes.
Can I swap instruments if I don't like it?
Yes, if after a few weeks you aren't getting on with the instrument, you can swap to a different brass instrument - we will talk about this. Sometimes the shape and size of people's lips means it is better for them to play a bigger instrument, or a smaller instrument - we will find one that suits you. You can't, however, keep changing instruments every few weeks as you will never make any progress! In some schools I try to give you a taster session to try out the instruments before deciding which one you want to play, but this is not always possible.
I want to have lessons!
Great! Please talk to your parents about your interest in brass playing. Get them to look at the information pack, or the web pages under the 'Parents' section. If they are happy for you to have lessons get them to fill in a booking form.
I want to learn the recorder - can I do this?
Yes! If you have never played an instrument before it is often good to start on the recorder. I would teach you the recorder for the first year and then you can move on to a brass instrument. If you don't want to play a brass instrument you can ask your school to put you in touch with a different teacher to either continue learning the recorder, or move to a different instrument.
I have another question
Get your parents to send me a message. If they are too busy you can message me yourself, but just to let you know, when I reply I will copy in your parents (if I have their email address), or your school. This is to help keep you safe. I will not give my telephone number or home address to pupils.
Check out these amazing brass players (some of them are funny!):
Jazzy Trombone Solo - 13 year old
Alison Balsom - Professional Trumpet Player
David Childs - Professional Euphonium Player
Christian Lindberg - Professional Trombone Player
Dizzie Gillespie - Jazz Trumpet - see also Miles Davis or Louis Armstrong - all famous trumpet players
Cory Band - World's Number 1 Brass Band
London Symphony Orchestra - professional orchestra famous for lots of film tracks
The Regimental Band of the Coldstream Guards - professional military/wind band
Luke Pickett - videos created by myself!
There are lots of great music clips online. If you find any you like, please let me know!